BIS CKCSC, USA CH & AKC GCH
Del Sol Magic Carpet, AW
"Ryder"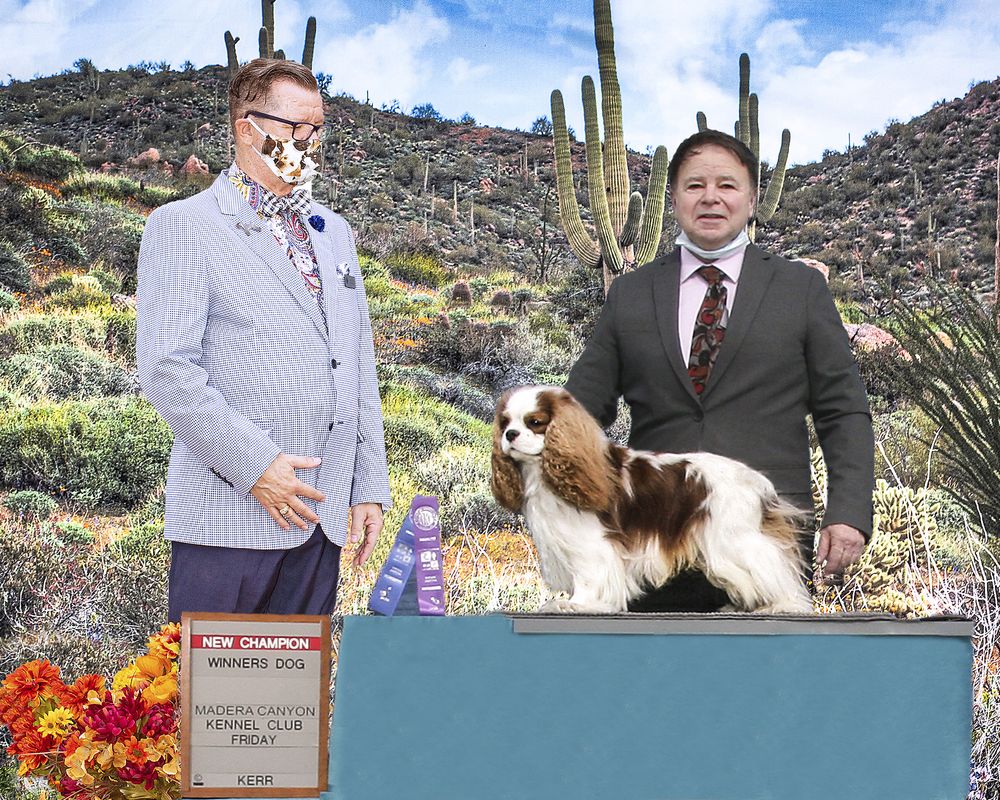 BIS CKCSC, USA CH & AKC GCH Del Sol Magic Carpet, AW
AKC CH Dreamvale Ollivander

CKCSC-USA Ch Nightingale Golden Ticket At Merrychase, JW

Nightingale Paparazzi, JW

CKCSC-USA Ch Wandris Showcase of Sumara

Keyingham Olwenna at Verity

Nightingale My Sunshine, JW, ROM

CKCSC-USA Ch Maibee Milan at Bentwood

CKCSC USA CH & AKC GCh Dreamvale Hands Down RN, CAA, RATS, CGC, TKI, ROM

CKCSC-USA/AKC CH Orchard Hill Shirmont Back Talk J.W.

CKCSC-USA/AKC CH Hurleaze Birthday Boy at Shirmont

CKCSC-USA/AKC CH Orchard Hill Never Grow Up

Orchard Hill Up Till Dawn AX, MXJ, OF

CKCSC-USA/AKC CH Orchard Hill Where's The Party?

Eng & CKCSC USA & AKC Ch Lanola Santana of Maibee

Eng Ch Tameline Northern Dancer

Amantra Medici del Lanola

AKC GCH Greyhawk Remembrance at Del Sol

CKCSC-USA & AKC CH Lanola Santiago

AKC CH Rytonion Princetown

Greyhawk Songbird's Melody
Richard Morrison (Bowerswell Cavaliers , Scotland ) This dog caught my eye immediately, he is beautifully marked, he is of A1 size, shape and balance, his coat is in beautiful condition and was exceptionally well presented, he delights in head shape, eye size and colour, he has depth of pigmentation, his ears are high set and of a lovely length, his excellent construction jigsaw results in him having a super outline profile shape and movement that is sound from all angles. He is a toy spaniel of ideal proportions, he scores in type with his attributes complemented by excellent handling, later was WINNERS DOG, BEST BLENHEIM DOG, BEST AMERICAN DOG & BEST IN SHOW.
Erica Venier (Orchard Hill Cavaliers , USA) An impressive dog with all the bells and whistles required to create breed type. Well-broken Blenheim with rich rufous color on a pearly white background unmarred by ticking or freckles. Eyes dark and round and accentuated by deep pigment around the eyes, mouth and on the nose. Lovely head with the desired softness and cushioning we all want to see, yet without any exaggeration. Well-arched neck leading into well-laid shoulders and pleasing shoulder/neck transition. Matching well-angulated rear. Well sprung ribs, chest deep, loin short. Moved out effortlessly with no wasted motion. Here is the proverbial "one piece dog" which to me means the animal is well-made and balanced, all of its parts working together in harmony. At one with his handler who showed him quietly, allowing the dog's virtues to do all the talking. Pleased to award him RESERVE WINNERS DOG & BEST AMERICAN BRED DOG in excellent competition.