Multiple Group Winning

AKC GCH Allegria Made You Look,

"Mackie"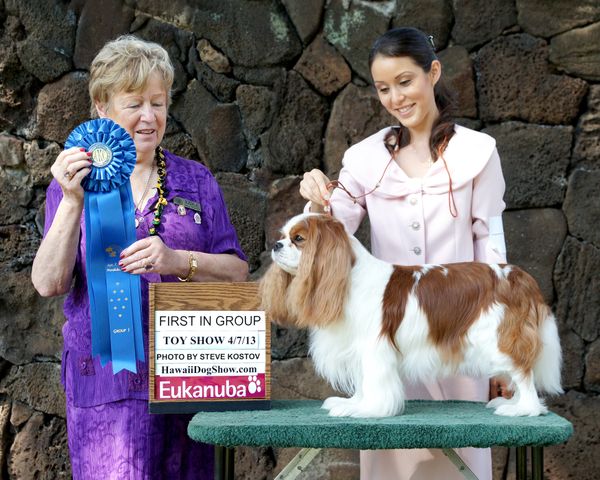 Mackie is a real momma's boy, always sleeping with one foot on me. if I cough or sneeze he's right there to make sure I'm ok. He can be a bit of a handful (especially when flirting with the ladies) but is also a constant source of entertainment. Mackie has very pretty dark eyes (showing no white) as well as a very rich red coat. He is an AKC Grand Champion and is pointed in the CKCSC USA. He recently visited his breeder in Hawaii and started out by winning  the Toy Group in Hilo, HI under judge Patricial Lanctot and followed that win by a Group 2nd the next day and a Group 4th the following day. Then he went over to Honolulu and took a nice 3rd in Group and followed that up by winning the Toy Specialty with Jennifer Oki Gonzales,  Mackie's parents are both currently heart clear after age 10! He is still heart clear at 6 years old and is current on Heart/ Eye as of May 2013.
AKC CH Grantilley Patriot ROM

Breidden Leader of the Gang

Allrena Chevignon at Dekerima

Grantilley Cathedral Belle

Ch Grantilley As Good As It Gets

Ch Droleus Thats M'Showoff at Kingsland

AKC CH Allegria Bellini at Torlundy

AKC CH Maibee Royal Revenge

Eng Ch Lymrey Royal Scandel at Ricksbury

Eng CH Lymrey Top of the Pops

AKC CH Elvenhome Keep Hopeing

Au Nz CH Prestonville Blackmoor

AU NZ Ch Prestonville Give'm Sade
7/6/2012, Norma Inglis (Craigowl)
Health and Conformation Dog
 A good ambassador for this class. 5 years old and looking in his prime with a wealth of Blenheim coat that was rich and glossy and felt good to the touch. A size up from my ideal but he had much to commend him. Good looking boy with broad skull, large eyes and black nose. Full of energy and he went around the ring with enthusiasm displaying a typical happy go lucky personality. He loved his showing and is a credit to his owner.

7/4/2011, Heidi Mohn (Covington)
This dog had a pretty head with nice eyes and expression. Well presented with lovely deep blenheim coat pigment and nice bone. He could use more layback and length of neck, which challenges his balance and pelvis tilt causing his tail carriage to be high.

7/3/2011, Maxine Fox-Shone (Pamedna) 
A lovely headed Blenheim with a nice eye and soft expression. Good for type and conformation. Would prefer a size smaller. Shown in lovely coat and well handled.

7/2/2011, Karin Ostmann (Sheeba)
Pretty headed blenheim, with a nice overall shape and outline. In good coat and well presented.

1/16/2011, Marian Mynott (Honeybet)
Blenheim boy with good outline, lovely head. Large dark eyes and good pigment to rims and nose. Good reach of neck and well laid shoulders. Not quite as strong in the rear. Moved out well

7/3/2010, Stephen Randall Goodwin (Lanola)
Lovely head, nice bone and substance, well coated and presented in good condition, looked a little heavy but on going over him on the table he was just right. Showed well and at one with his handler. (Jazmine)

7/3/2009, Gill Baker (Nehvill)
Dark blenheim markings with large round eyes. Lovely long ears,  sound body, and in good coat and condition